Product Description
adjustable garden water hose gun nozzle for watering plant
Hose Nozzle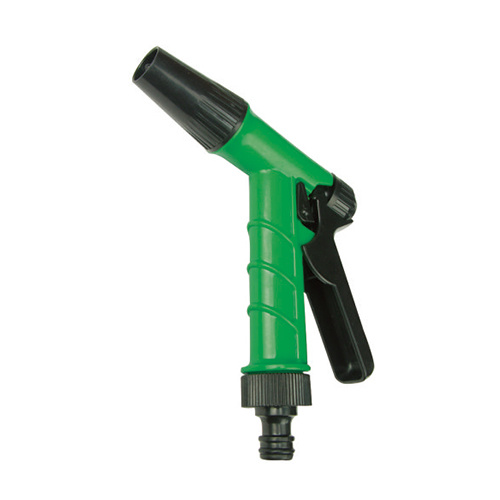 | | |
| --- | --- |
| Product Name | Hose Nozzle |
| Material | ABS plastic |
| color | green |
| GW / Quantity | 11.5kg / 100pcs |
| packing | tie on Card |
| Package | 46*43*33cm |
Features:
Use less water: without a nozzle, you'll have water running constantly while the spigot is on. With a nozzle, water will only be running when you are actively trying to water something. Garden hose nozzles also make it easier to run a direct stream of water specifically where it needs to go, and in a spray pattern that works best for a given activity. Nozzles also prevent dirt from splashing around when watering your garden.
Easy to use, ergonomic design and trigger: Soft, comfort textured grips and an easy, low resistance front trigger reduce pain and strain, even after hours - hassle free hosing, washing and watering, even with small hands or arthritis.
Various watering patterns: blast away gunk, wash the dogs and water your delicate flowers with well-engineered spray nozzles designed for all your outdoor chores. Easily switch between spray patterns of efficient, high flow watering to work your way around the yard - the precisely perfect spray. Sprayer patterns include: Angle, cone, shower, rinse, center, flat, mist, soaker, jet for every watering need.
Fits all standard garden hoses: Perfect for Watering Your Garden, Lawn, Grass, and Flower Beds. It's also Great for Washing Your Car, Dogs, and Pets.
Plastic Hose Nozzle Series: