| | |
| --- | --- |
| Diameter | 2.5mm, 3mm, 4mm, 6mm or any diameter requested |
| Length | Any length requested |
| Packing | 6, 7, 8, 10, 12pcs per bundle, bundled by clear tape, or wrapped by kraft; |
| Function | Aroma diffuser |
| MOQ | 10,000 pcs |
| Type of rattan sticks | Natural, bleached, dyed |
| Style of rattan sticks | Straight, curly, decorated with wood balls or flowers etc |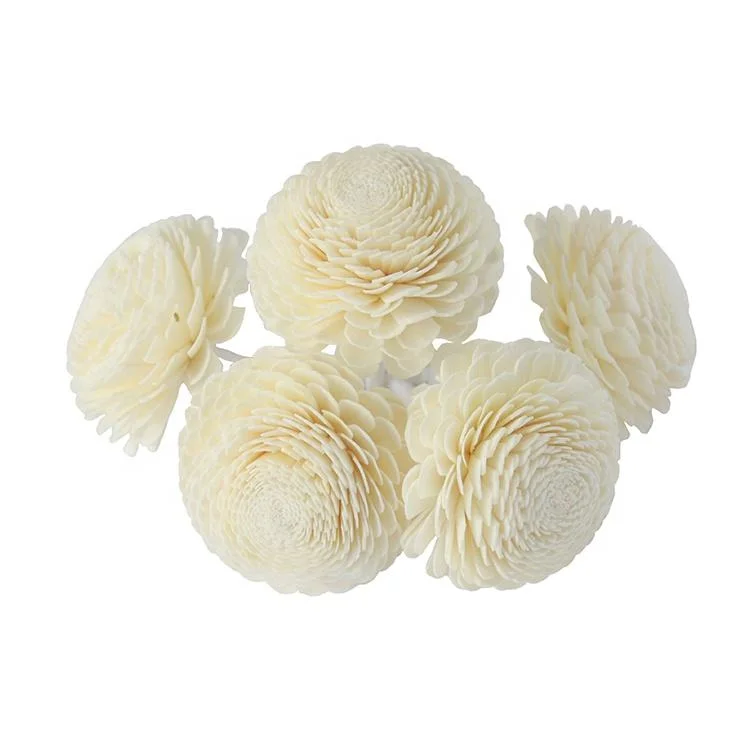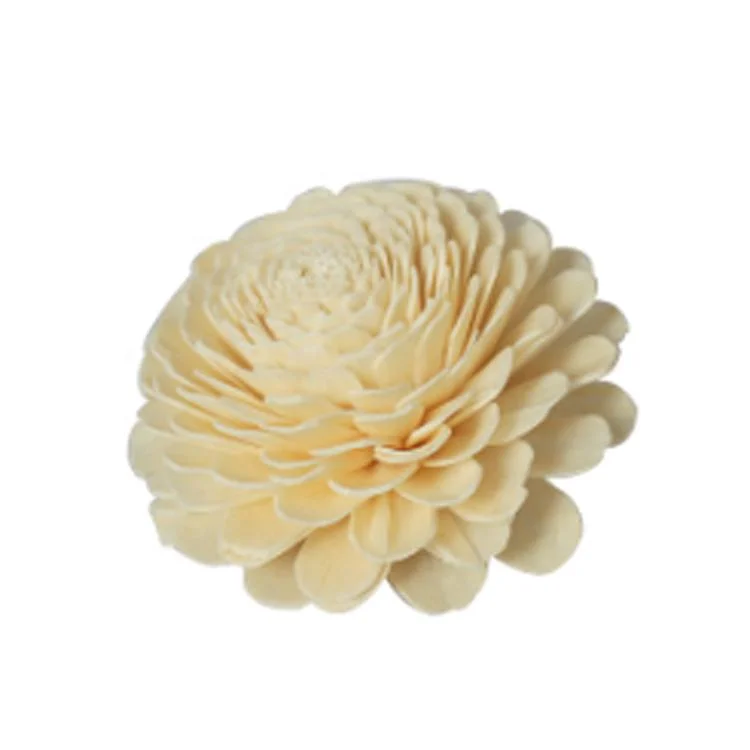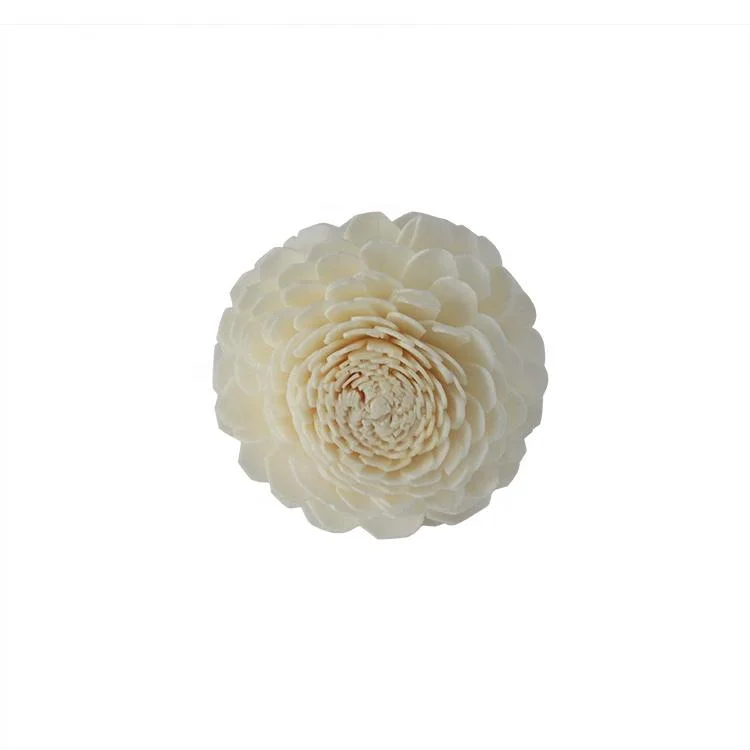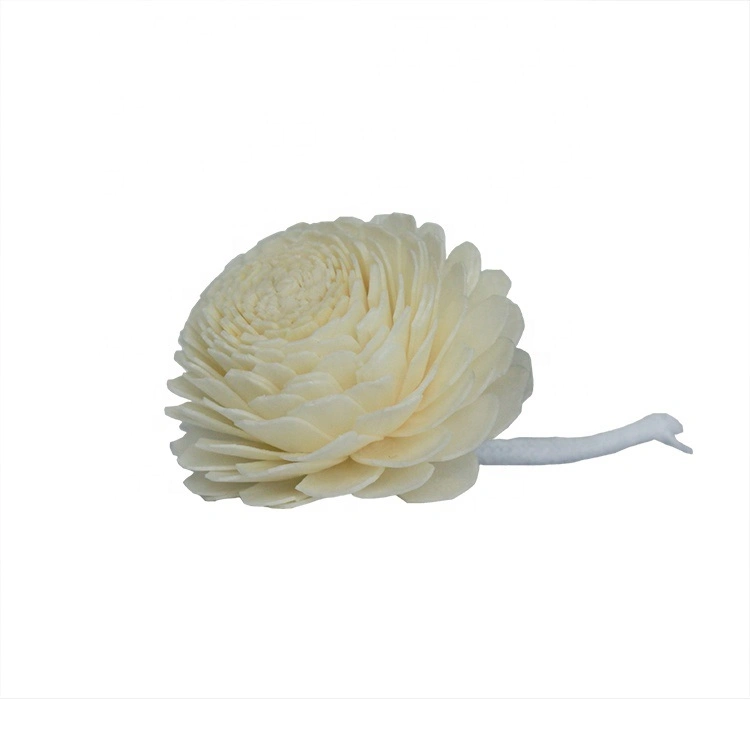 Trend hydrange artificial natural color sola reed diffuser flowers are handmade flowers from tapioca plants. It's a soft wood. We can easily string them together with a needle to make natural garlands and rose balls for decoration. The flower can be with cotton rope, cotton rope(inner alu) and rattan stick.
We accept customer sample and customer packing design,this is the point we main do,we try to open bottle model customer offered and send sample for customer checking,before place order.
We use precise automatic cutter to cut system specifications of different lengths to ensure that section of the circle, equality requirements, volatility could reach 99%. Our production of aromatherapy rattan, rattan stick, aromatherapy diffuser through a rigorous pest control mildew drying process, ensure that the problem does not occur and the moth-eaten moldy under appropriate storage conditions. Our duffiser and sticks have been exported various countries and regions around the world, the export volume of $ 8, 000, 000, in Europe, Japan, and other countries dominates.
Rattan is a palm creepers grow in tropical forests in a spiny, there are 13 categories, of which there are 600 kinds are known. Rattan can be up to over 200 meters. Since the texture firm and strong toughness, rattan is widely used in aromatherapy, furniture and other manufacturing. Natural raw rattan many species are widely distributed around the world, especially abundant in the rainforest in Southeast Asia, South America and Africa regions.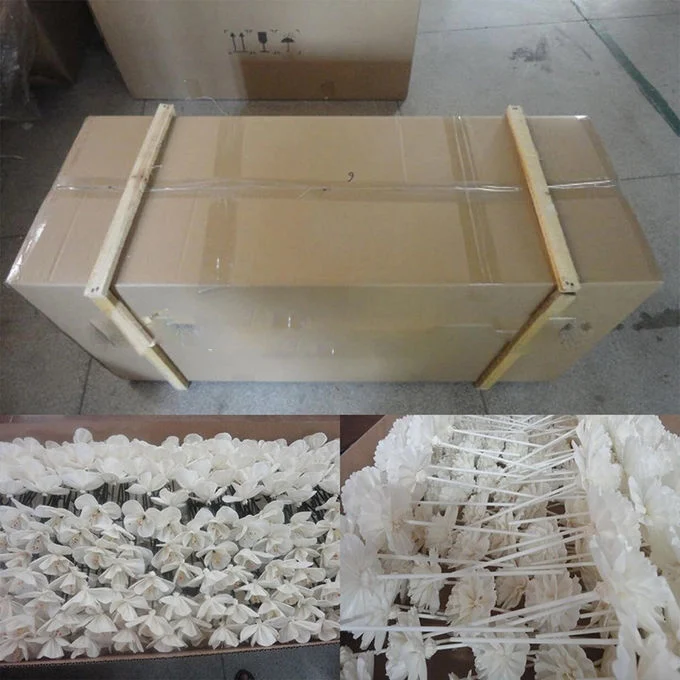 1. First put the product into the inner box, cover with a layer of bubble sheet.
2. Put the inner box into the thickened and stiffened outer box
3. When transportation it will be protected by wooden frame
4. We can put the goods on the pallets, and also will ask the forwarder to put our goods on the top of the container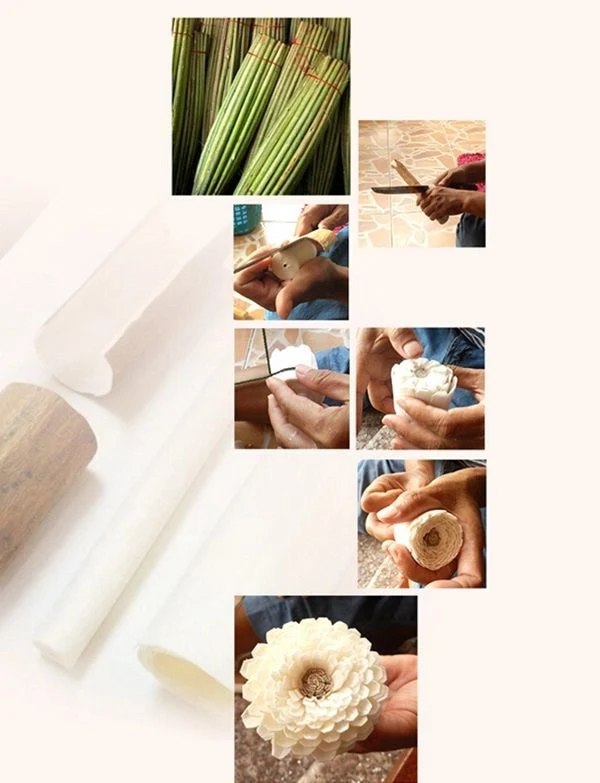 1.What are reed diffusers and how do they work ?
Reed diffusers are the hottest trend right now in home fragrancing ! Rattan reeds are inserted into a glass bottle or glass jar of scented diffuser oil.
Each rattan reed contains about 20 "channels" that run the entire length of the reed. Much like "mini-straws", these channels "suck" the oil to the top of the reeds. The scent is then naturally dispersed into the air through evaporation- leaving your home smelling wonderful !
Unlike candles, reed diffusers are flame free and do not require any heat. They disperse scent into the air naturally. No flame means no soot and more importantly, no risk of fire ! This makes reed diffusers safer for your home, office, classroom, etc.
2.Are your reeds bamboo or rattan ?
Our reeds are premium quality RATTAN reeds. There is a lot of misinformation on the web about reeds. Reeds are not bamboo. Perhaps people confuse rattan reeds with bamboo as rattan reeds look somewhat similar to bamboo skewers. However, bamboo reeds or chutes would not work as they do not contain the channels for the oils to wick (travel) up. Bamboo contains "nodes" which block liquid from wicking (traveling) up and scenting the air.
3.Can I reuse my reeds ?
No. Once reeds have been used for a certain scent, you cannot use them for another scent. The scent that is already absorbed into your reeds will mix with the new scent and could produce undesirable scent combinations.
You should use new reeds when you switch to a new scent, if the reeds become completely saturated, or if they become clogged with dust. After prolonged use and complete saturation of the reeds, the channels can become slightly clogged. Simply replace with new reeds to get the scent rolling again !
4.How long do reed diffusers last ?
That is a difficult question. There are many factors that contribute to how long the oils last. Fans, humidity, air conditioning, heating, closed doors, open doors, dehumidifiers, etc. However, as a general rule of thumb, our 4 oz. diffuser oils will last for approximately 3-4 months and our 8 oz. diffuser oils will last for approximately 6-8 months.
5.Can I dilute the oil with water ?
No. Oil and water do not mix. You'll end up with warped reeds and uneven wicking. Our reed diffuser oils are specially blended for easy wicking. There is no need to mix them or dilute them with anything.
6.How often should I flip my reeds ?
Whenever you notice the scent fading a bit or want an extra burst of fragrance. In our home, we flip the reeds about once per week. For a photo of how to flip your reeds, please .
7.Can you tell me what's in your base ?
As we have spent thousands of dollars researching and developing this base, we do not disclose it's specific ingredients. We can tell you that it does not contain alcohols or harsh chemical solvents such as DPG.
8.How often should I replace the reeds ?
Replace the reeds after they permanently stop diffusing. Over time, reeds can become clogged with dust. Before replacing, flip them. This usually starts the scenting process all over again. If this doesn't work, your reeds are probably clogged with dust or overly saturated and in need of replacement.
9.What should I do if the scent stops diffusing ?
Flip the reeds over in the bottle exposing the "wet" ends to the air. If the reeds have permanently stopped diffusing (due to clogging with dust for example) then simply replace them with new reeds.
10.How many reeds should I put in a bottle ?
It is a matter of preference really. More reeds diffuse more scent. We usually put between 6 and 10 reeds in a bottle.
11.Does your base contain alcohol or DPG ?
No ! We are quite proud of our base too ! Yes, allow us to toot our own horn here for a minute ! The MAJORITY of those selling reed diffusers use a base that is made up primarily of alcohol, Dipropylene Glycol (DPG) or a combination of both. Alcohol is highly flammable ! It also evaporates into the air very quickly and you go through your oils a lot faster that way. That's a sneaky little way to get you to have to more frequently buy more oils from them.
Dipropylene Glycol (often referred to as DPG) is a dilutent used in perfumery. DPG is thicker than water and although it is effective for thinning out fragrance oils, it can clog up your reeds.
Our reed diffuser base contains NO ALCOHOL and NO DPG. This is why we very strongly believe that we offer the best !