modern paddy parboiling and drying rice milling plant line price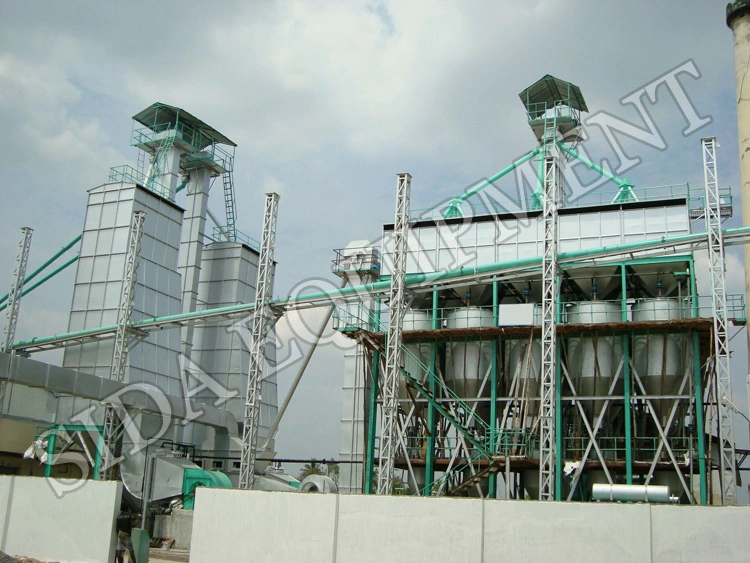 Description of Parboiled Rice Mill Machine
Parboiling involves partial boiling of the paddy before milling in order to increase its nutritial value, to change the texture of cooked rice, and reduce the breakage in milling,the whole process include: Cleaning - soaking - steaming - drying - husking - milling - polishing&grading - color sorting - packing--sealing.
| | | |
| --- | --- | --- |
| Item No. | Processing flow | Description |
| 1 | Cleaning | Remove the dust.stone and other impurities from the paddy |
| 2 | Soaking | Make paddy absorb enough water, during the course of starch pasting paddy must absorb above 30% water |
| 3 | Steaming/parboiling | To change the physical structure of rice and keep the nutrition, to increase the production ratio and make rice easy to store |
| 4 | Drying | The aim of drying is to make moisture reduced from around 35% to around 14% |
| 5 | Husking&separating | After soaking and steaming it will be very easy to husk the paddy and save energy |
| 6 | Rice milling | Use the rice emery roller milling and horizontal rice miling machine to mill it. |
| 7 | Polishing&grading | Use the mist polisher to make the rice smoothly to increase the rice quality; |
| 8 | Grading | To separate different quality rice and separate broken rice from the good ones |
| 9 | Color sorting | To select the bad rice and other grains to ensure we can get high quality rice |
| 10 | Packing &sealing | To pack the rice into 5kg 10kg,25kg or 50kg/bags |
Detail pictures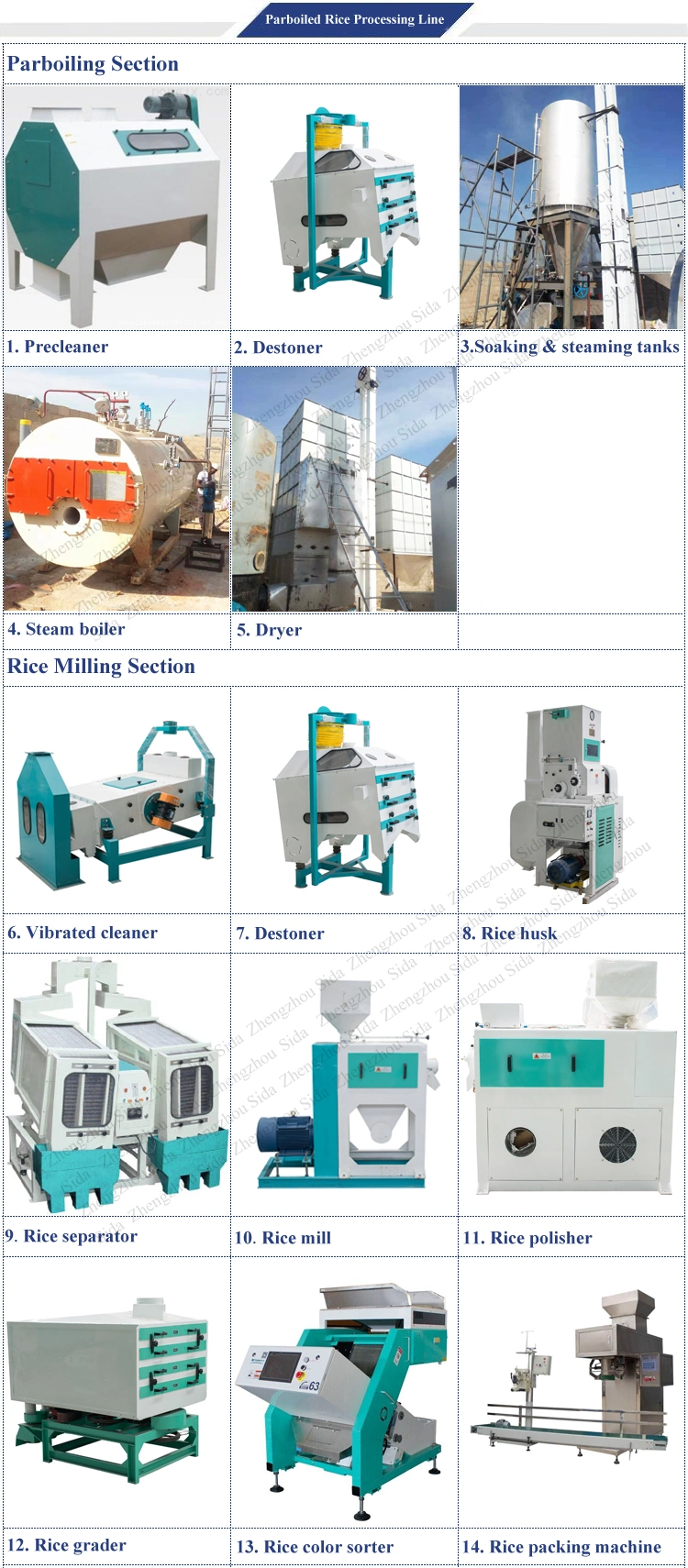 The below is the flow chart of 24t/d parboiled rice mill plant for your reference: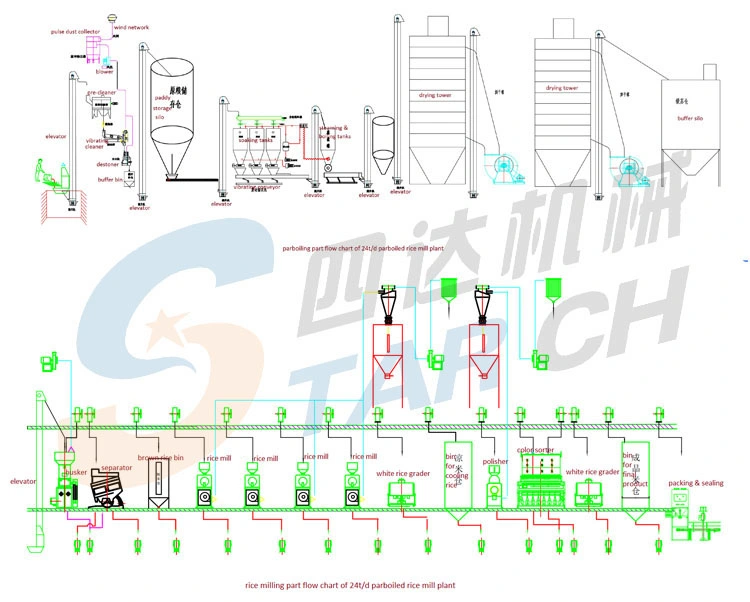 More installation sites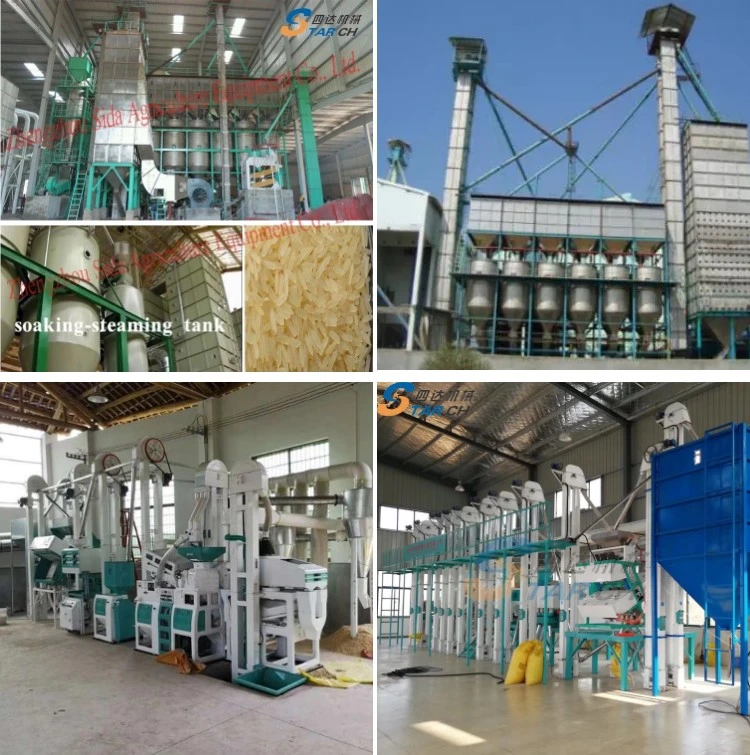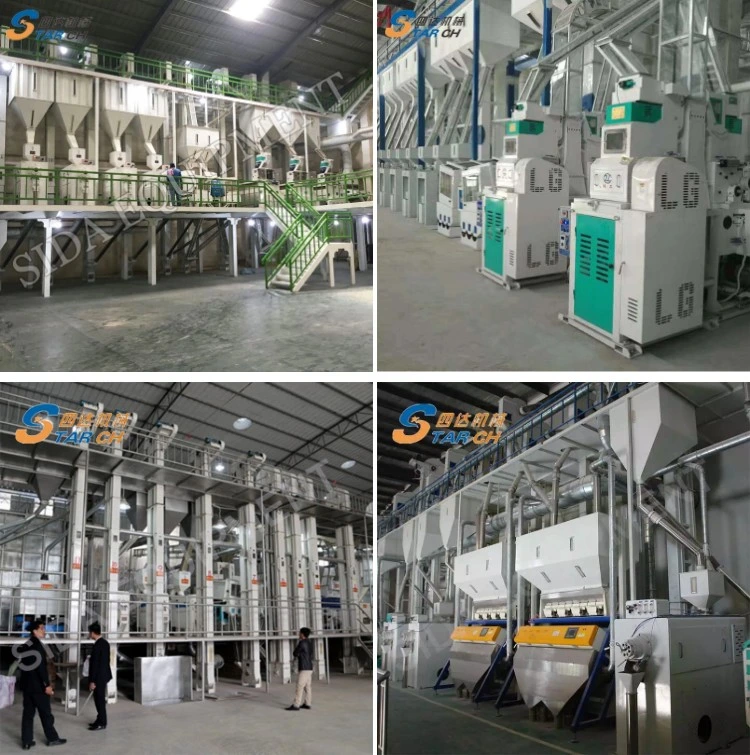 | | |
| --- | --- |
| Capacity available(Parboiling line) | Power |
| 10 ton per day | 60kw |
| 15 ton per day | 78kw |
| 24 ton per day | 106kw |
| 50 ton per day | 310kw |
| 100 ton per day | 500kw |
| 120,150,200 ton per day or customize based on your requirement | / |
Customer visit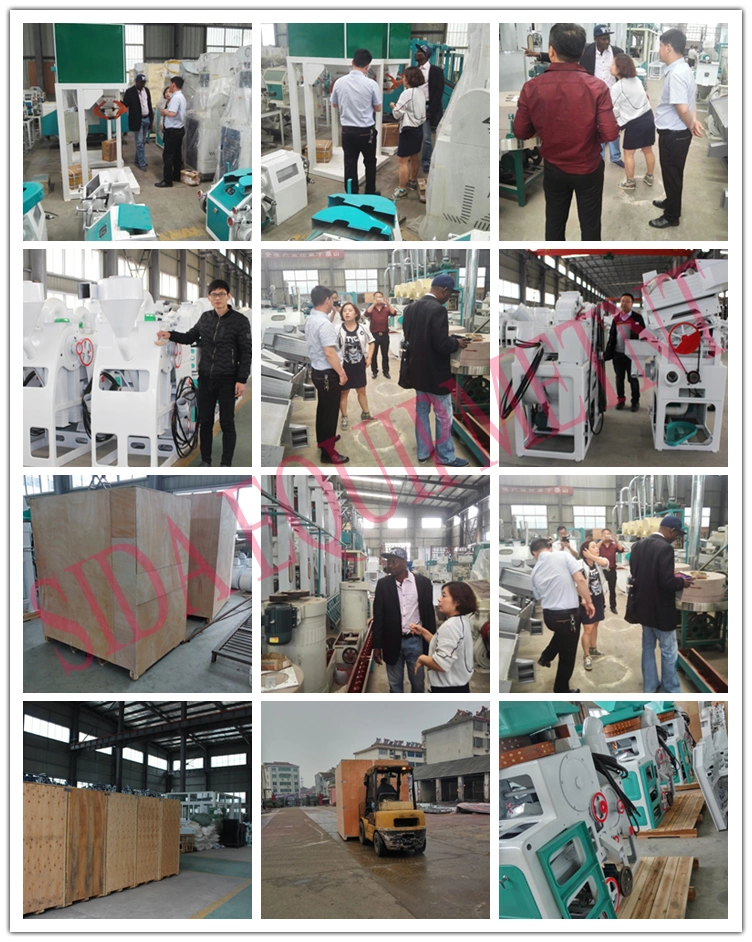 Customer feedback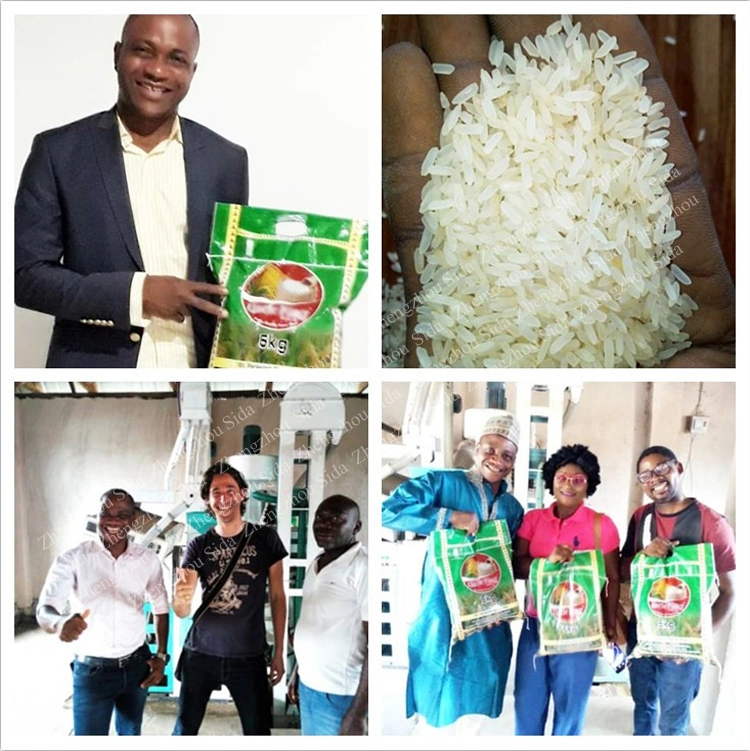 Company profile
Zheng Zhou Sida Agriculture Equipment Co.Ltd is a manufacturer of rice processing machines. We can supply 5-300ton/day complete rice mill line(Parboiled rice line) and different kinds of rice processing machines like husker,destoner,rice grader, color sorter, paddy dryer, etc. Our rice equipment have been exported and installed in rice successfully in Nigeria,Thailand, India, Sri Lanka, Indonesia and so on. Our main markets cover Africa (such as Nigeria, Ghana,Cameroon, Gabon and so on), Europe, America.... Welcome to visit our factory!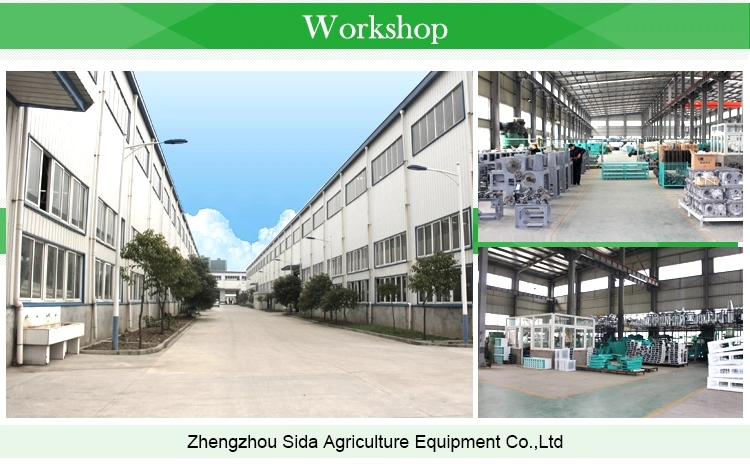 Our services:
Pre-sale service of parboiled rice milling machine
1) Accept customer consultation, We will offer solutions according to customer requirements, determine the scale of operation;
2) To provide customers with project design, process design, suitable for your machine equipment plan formulation of choose and buy, in a timely manner to provide customers with related technical documents;According to your special requirements, design and manufacture of products, for your training technical operation personnel for preliminary design and construction design.
Serve for sale of parboiled rice mill machine
1) The company sent technical personnel to the scene of the on-the-spot guidance equipment installation, debugging and training operators.
2) 24 hours telephone service, holiday service as usual.
After-sales service of parboiled rice mill machine
1) Phone support: refers to the customers in the use of equipment of difficult problems in the process or equipment in abnormal state, by telephone or by fax to the company for technical support and help.Company after confirm the customer's service request, will arrange technical personnel within the prescribed period of time (i.e., response time) by phone to help fault locating the demand side, and put forward solutions, guide customers to exclude equipment failure in the end.
2) If you can't fault diagnosis by phone and solve the failure phenomenon, will immediately send technicians to the scene, eventually to solve.
3) The company's products provide a year warranty, life-long maintenance.
Welcome to visit our factory at any time!